Makar Sankranti Event Organizer Services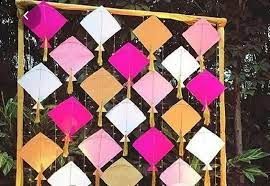 Celebrations
Makar Sankranti
Service Include
Food
Mode of Service
Offline
Payment Mode
Offline, Online
Click to view more
Service Details
Service Duration
Project Based
Our Makar Sankranti event organizer services at Shree Khatushyamji Group Khatuvalue your emotion related to this festival. We organize every festival-related event in the most vibrant and auspicious manner. When you give us the responsibility of organizing your traditional and religious events, we do it wholeheartedly with the help of our skilled and efficient management.
Sankranti, which is described in the Vedas, explains how the Sun moves from one Rashi (zodiacal constellation) to the next. there are 12 Sankranti in a year as a result. The Makar Sankranti, also known as "Poush Sankranti," is one of the few Hindu festivals that is in harmony with the solar cycle and is hence regarded as the most fortunate of them. The harvest season, which begins with the Makar Sankranti festival, is when new crops are revered and joyfully shared.
Looking for "
Makar Sankranti Event Organizing

" ?